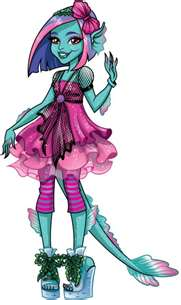 Grimmily Anne McShmiddlebopper
Edit
Who is she
Grimmily is the daughter of the sea monster.
Age
16
Were she comes from
Grimmily comes from down under the sea and speaks with an South Africa accent.
Pet
She has a Purple pet Shack named Neptune.
Smells
Freaky Flaw
She is very bad at swimming she smells like some sea weed.
Friends
Spectra, Abbey, Operetta & C.A. Cupid
Favortie colour
Purple
Favortie Food
Seaweed
Ad blocker interference detected!
Wikia is a free-to-use site that makes money from advertising. We have a modified experience for viewers using ad blockers

Wikia is not accessible if you've made further modifications. Remove the custom ad blocker rule(s) and the page will load as expected.